Event Schedule
Friday:
Morning:
Organisers drag themselves from their pits and look forward to greeting the first arrivals with cheery smiles all round.
Afternoon:
More arrivals and smiles, if some of you want to go for a ride round the local area we'll sort out a route and show you around.
Evening:
Guided ride leaving at 7-ish with a pub stop at the Culver Haven up on Culver Down. This will be the most conventionally off-roady ride of the weekend with some sweet singletrack and big views across both Sandown Bay and back across the Solent to Portsmouth. You will need lights.
Campsite bar will be open until 11:00. Snacks will be available at the bar but for anything more substantial Lake village centre is only a mile away and is well served with takeaways, some of which will deliver. See the 'Venue' page for more details.
Night:
Ride to the beach and midnight swim for those that really don't want to go to bed just yet?
Saturday:
Morning:
A continental type buffet breakfast will be served in the barn.
The Main Event:
We're all going to go for a ride.
I thought the Rich's idea for SSUK2017 of a lengthy prologue where everyone got to ride together with time to appreciate their surroundings worked pretty well so that's what we're going to do again.  After all, most of us aren't going to win so why hurry a good ride?
There'll be two options; Those that are feeling fit and lively will depart at 10-ish for a loop up over a local hill (because we all love hills first thing in the morning) where there'll be some great views across the Island and the bay and also refreshments of the usual kind. Those others who are too hung over or simply can't be arsed will make up a second group which will leave an hour later on a shorter route to the beach. The shorter ride will be about 5 miles and quite suitable for non-serious partners and older children.
There will be a start line advantage given to those who complete the longer prologue.
If all goes to plan the two groups should meet up at Shanklin Railway Station from where we'll all head off to parade along the sea front to Yaverland for a bit of short course racing on the beach to sort out the issue of who gets the prizes that have been so generously donated by our sponsors/paid for on my credit card. There will be more refreshments there and some entertainment. If it all sounds a little bit complicated just remember that we're singlespeeders and nothing's too difficult when there's free beer waiting. As we'll be passing through populated areas on the way please dress to impress. I'm sure I can find a prize for whoever does that best.
Please remember that the route along the sea wall is a shared use path. This is not a competitive part of the ride and there will be pedestrians also using the path. Respect them. You should also respect the unfenced drop to the beach below which is 8 to 10 feet in places.
If all goes to plan we'll be down here for our lunchtime beach party and competitive bit:
<![if !vml]>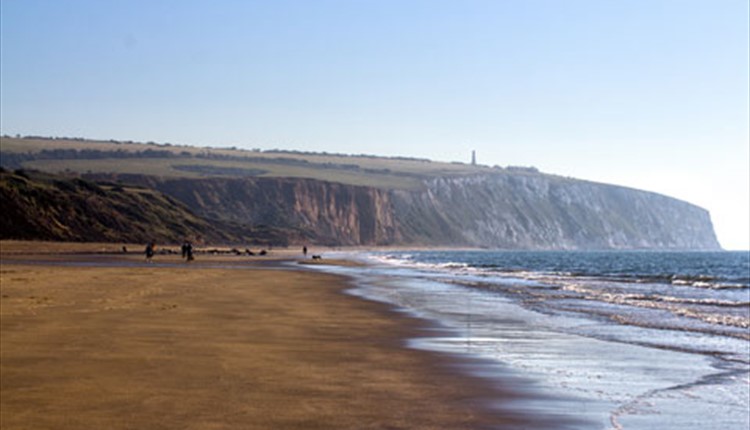 <![endif]>
(If you join us for the Friday evening ride you'll have the opportunity to sink a pint at the pub next to the monument up top and then roll down the cliff path on the way back to base)
The racing will take place over three rounds, starting with the usual run to your bikes and mass start and I repeat there will be a start line advantage given to those who completed the longer ride out. The first 30 riders will go through to the next round where they'll be whittled down to the last 10 keen peeps who will then have their chance to spin like hamsters to glory whilst being bombarded by the best heckling the rest of us can manage. There will be a few other ways in which we can ensure the winners well and truly earn their prizes but they're going to remain secret until the day of the event. Also, the racing may be on a largely flat course but anyone caught running unfairly high gearing will be penalised!
Whilst we're down on the beach it would be rude not to have a skid competition and maybe a demolition derby.
5:30PM – 7PM: Dinner will be served. This will now be fish and chips, delivered to the campsite in batches of 50 at roughly half hour intervals. The supplier's menu states that their food is cooked in refined peanut oil. If you have a problem with this or are unable to eat fish and chips please contact me via the event's Facebook page.
7:30PM: Prize-giving in the barn, raffle and entertainment of the musical variety. Oh, and plenty of locally brewed beer and cider too, at very reasonable prices. Bring your own cheese and we'll supply the biscuits.
11:00PM: Sorry folks, that's curfew time for the bar and entertainment, but if you're really still upright after all the above then I salute you and you're fully welcome to go for another swim if you want to. You should know your own way to the beach by now.
Sunday:
Morning:
Another buffet breakfast will be available.
 If there's enough interest we'll do a ride out to a local attraction. The Tiger Sanctuary, the Garlic Farm and the Arreton Barns glass studio are all within a few miles?
Afternoon:
Time to pack up and head home. Organisers wave a tearful goodbye before collapsing in a frazzled heap once you're all out of sight.
Evening:
If you've decided to stay on for a bit and there's still beer left undrunk………… well it'd be daft to chuck it away.